Teams 2021-2022
Steele Athletics strives to create competitive cheerleading teams for athletes of all ages and skill levels! Competitive cheerleading is a twist on gymnastics, traditional cheer, and circus elements all compacted into a 2 minute 30 second routine showcasing true athleticism. Athletes from ages 3-30 are welcome to join teams at any of our facilities!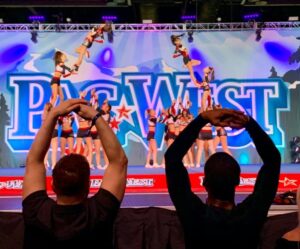 Steele Athletics currently has 27 full-year competitive teams for the 2021-2022 Season!
Arkansas Full Season Teams:
Sterling- Junior Level 1
Iron Girl- U16 Level 2
24k- Senior Coed Level 4.2
Sassy Brass- Junior Level 4
Chrome- International Open Coed Level 4
Shrapnel- International Open Small Coed Level 7
Arkansas Prep Teams:
COMING SOON!