Teams 2019-2020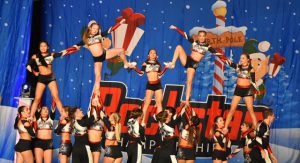 Steele Athletics currently has 17 full-year competitive teams for the 2018-2019 Season!
Full Season Teams:
BB's: Small Mini 1
Cobalt: Mini Youth 1
Pennies: Small Youth 1
J-Bolts: Small Junior 1
Bombshells: Small Senior 1
Mini Metals: Small Mini 2
Tin Tins: Small Youth 2
Gold: Small Junior 2
Silver: International Junior 2
Platinum: Medium Senior 2
Sterling: International Junior 3
Copper: Medium Junior 3
24K: Small Coed 3
Rose Gold: Small Junior 3
Iron Girls: Small Senior 4.2
Sassy Brass: Small Youth 4
Rust: International Open Coed 4
Lady Chrome: Medium Senior 4
Slate: Small International Open Coed 6
Titanium: Medium Coed 6
Prep teams: 
Tiny turquoise: Novice Prep
Tiny Topaz: Novice Prep
Junior Black: Junior 1.1
Junior Red: Junior 2.1
Are you interested in joining the Steele family for the 2018-2019 Season? Click here for our interest list!